Welcome to the Centre
My Vision for the University is to be the first choice of Caribbean nationals seeking high quality undergraduate and postgraduate education and to be the first port of call for Caribbean governments in need of advice and technical expertise.
Professor E. Nigel Harris
Vice Chancellor
Featured Story
Professor Harris honoured by university of st. Andrews
Regional Headquarters
The New regional headquarters is the "nerve centre" of the regional enterprise bringing together previously dispersed central administrative offices and research centres under one roof .
Vice Chancellery Projects
Presented to University Council by the Vice Chancellor, UWI's Annual Report captures a snapshot of the major advancements across the UWI's four Campuses. Annual Reports
.
News, Events & Communications
Featured News, Events and Communications from the Regional Headquarters
Pelican Magazine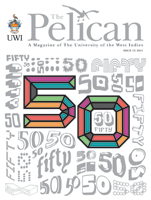 Issue 12, 2013
Get In Touch
Office of the Vice Chancellor
The University of the West Indies
Regional Headquarters
Kingston 7, Jamaica, W.I.
Tel: 876-927-1600-9 Exts. 2336/2339
Fax: 876-927-0253
Email: vcoffice@uwimona.edu.jm